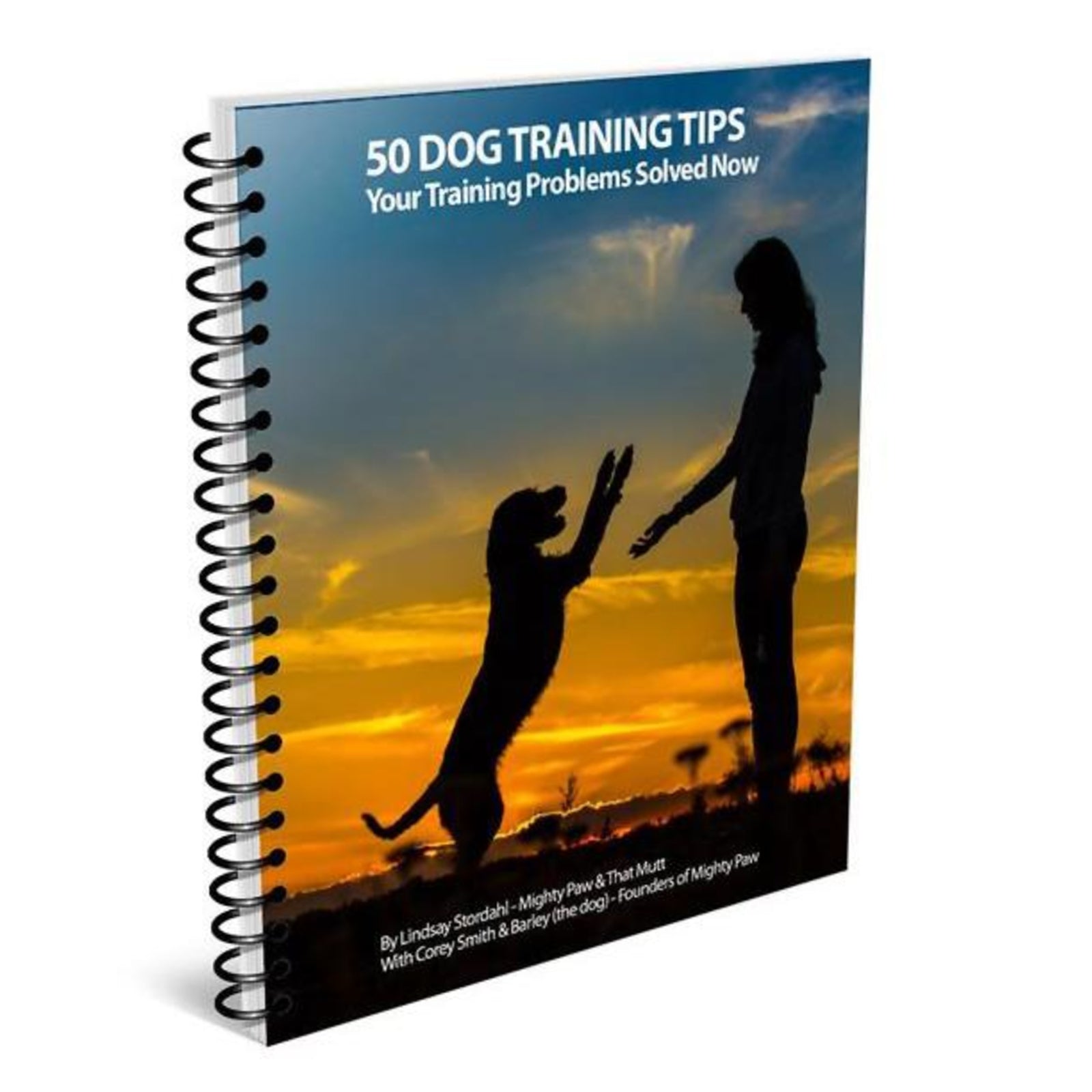 [Ebook] 50 Dog Training Tips - Your Training Problems Solved Now
50 DOG TRAINING TIPS EBOOK
We created a 184-page downloadable digital guide to help you with 50 of the most common dog training problems. We get a ton of questions from our customers and audience about behavioral problems that range from jumping and barking to potty training to separation anxiety and more. So, we wrote an ebook that answers all these questions in one place!

Through this guide, we will help you:

Stop feeling embarrassed by your dog's behavior!
Have the confidence to take your dog out in public
Train your dog to be polite around visitors
Fix common potty training issues
Stop your dog from jumping up on people
Stop your dog from guarding food, toys or family members
Help your dog work through separation anxiety
Strategies to deal with hyperactive dogs!
Help your dog stay focused on you around distractions
Prevent fights when introducing your dog to new dogs
Train multiple dogs in the same family
Raise a well-behaved puppy
Train your dog not to pull on the leash
Kennel train your dog
Get your dog use to being home alone
How to socialize your dog or puppy
Prevent unwanted behaviors like barking
Teach your dog basic and advanced commands
Choose the right training products for your unique dog
Come up with a smart training plan even if you don't have access to a one-on-one trainer
And many many more
You'll also receive support and feedback from us and the other dog lovers in the Mighty Paw family.
We love dogs so much, but we also understand how frustrating they can be when you're working through various issues like jumping, resource guarding or aggression on walks.
It's easy to feel alone when you're dealing with a dog who refuses to come when called, has frequent potty accidents or needs to wear a muzzle around new people. We're here to help you work through these issues and offer you the support you need.
Our guide covers 50 of the most common dog training issues, and the information from each step can also be applied to many other issues. We want to help you have a (close to) well behaved dog this fall!
We also cover the best dog training gear you should use for your unique dog. Hint: There is no "one size fits all" answer. Each dog is different!
This is a digital download, which means you can get started with your training instantly! Today! We also link to hundreds of additional resources throughout the guide.
All materials are digital in a PDF format. You will not receive a physical book. Download the PDF to any computer, tablet or phone and start training your dog NOW!